Grihalakshmi is Women Magazine in Malayalam Language published by Mathrubhumi group covering almost all aspect of feminine psyche..It was Launched in the year 1979 in India by Mathrubhumi. It is owned by the Mathrubhumi Printing and Publishing co.
Grihalakshmi magazine was first published in Malayalam Language But present its available in Tamil, Hindi, Kannada Language also.Grihalakshmi is comprehensive magazine covering all aspect of feminine psyche, beauty tips, film news, relationships, travel, and women's makeup tips.Grihalakshmi Exclusive Magazine provides guidance to Kerala Women on Kids health, Kids Education and their upbringing.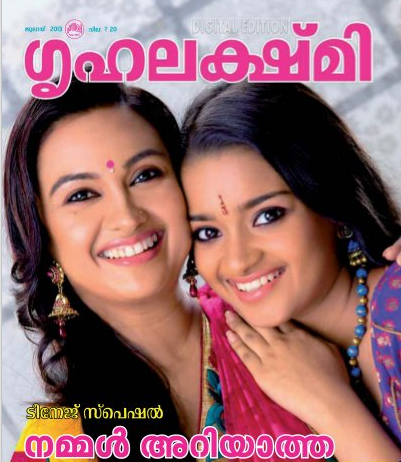 Grihalakshmi is dedicated to the very women to entertaining and educating house wives and working women in Kerala and also among Malayali women outside Kerala.Every month Grihalakshmi magazine Published the tasty and healthy recipes of cooking foods.A Separate section is available for the women's health and fitness in Grihalakshmi Magazine.Woman's Fashion, lifestyle, fashion accessories, jewellery, hobbies, arts and crafts, tailoring and many other women related matters are discussed in Grihalakshmi Exclusive Magazine.All kinds of tips like Health tips, cooking tips, cleaning tips, time management tips, and various small tips are provided to women through this Exclusive Grihalakshmi.
Grihalakshmi Subscription
| | |
| --- | --- |
| Grihalakshmi | Rs 20 |
| 3 months | Rs 120 |
| 6 Months | Rs 240 |
| 12 Months | Rs 480 |
Read Grihalakshmi Magazine August 2014 – Grihalakshmi Magazine August 2014
What is in this Publication
The Complete Women's Magazine from Mathrubhumi. Beauty Guide,Interview with G.Venugopal, Vidya Balan, Sheela Dheekshit, Election,Cinema, Samooham, Bollywood, Fashion, Health, Smart Kitchen, Vishu Sadhya, Vishu Phalam- dappal C Govindhan etc.
Grihalakshmi Magazine Contact Details
Mathrubhumi Printing & publishing Co.
M.J.Krishnamohan Memorial Building,
K.P.Kesavamenon Road,
Kozhikkode,673001,Kerala,India.
Phone: 0495 – 236 6655/236 9333/ 236 8222/ 236 0222/236 0333
Fax : 236 6656, 236 6165
Mobile : 98470 06095
E-mail : mbiclt@mpp.co.in