Ernakulam District is situated almost at the middle of Kerala State and on the coast of the Arabian Sea. Ernakulam District is Commercial capital of Kerala as it is the major business hub of Kerala State and the highest revenue yielding district in the state . It is the third most populous district in Kerala,after Malappuram and Thiruvananthapuram. It is surrounded by Thrissur District, Idukki District, Alappuzha and Kottayam districts and also by Arabian sea to west.Ernakulam district also hosts the highest number of international and domestic tourists in Kerala state.This district was formed in 1958 by carving out regions from Thrissur and Kottayam district.The district is bounded by a 46.2 km. coastline of the Arabian Sea on the west.
Ernakulam Political Map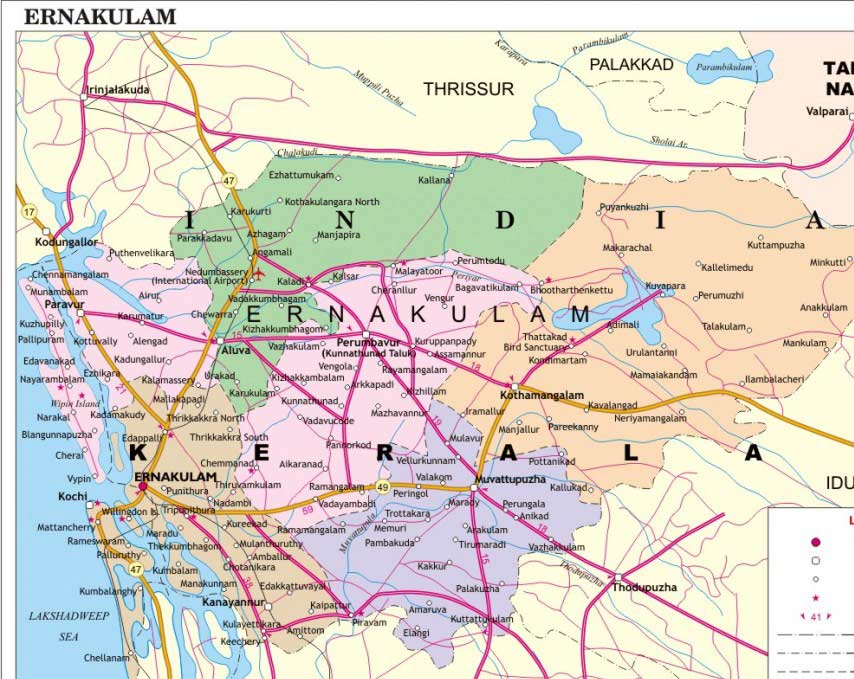 Ernakulam Districts Facts
| | |
| --- | --- |
| Headquarter | Kakkanad |
| Population | 3,279,860 |
| Area | 3,068 sq.km |
| Literacy | 95.68%. |
| Sex Ratio | 1028 Female per 1000Male |
| Official Language | Malayalama, English |
| Official Website | http://www.ekm.kerala.gov.in/ |
| Density | 1,069 per Sq Km |
| Taluks | Parur, Aluva, Kunnathunad, Muvattupuzha, Kochi, Kanyannur, Kothamangalam |
Brief History of Ernakulam
Ernakulam has a rich history as it was an important trade center in ancient times. It was well known as centre of spices trade among ancient Greeks, Romans, Jews, Arabs and Chinese. When Kodungalloor was destroyed by floods from Periyar in 1341, Kochi came to be recognized as the biggest natural port and centre of trade on the Western Coast, "The Queen of Arabian Sea". References made by the Chinese voyager Ma Huan and Italian traveler Nicol da Conti in the 15th century suggest that Kochi was a flourishing trade center.
Ernakulam Geography and Climate
Ernakulam district covers an area of 3068 Sq Km located on the Western Coastal Plains of India.The Periyar River, Kerala's longest, flows through all the taluks except Muvattupuzha.The district has a moderate climate, and mostly falls within the Malabar Coast moist forests ecoregion, while the highlands are part of the South Western Ghats moist deciduous forests ecoregion. Many types of sands, soil and also rocks which are geological importance is abundant here.
Ernakulam has a tropical climate , therefore the weather is pleasant here. The average maximum temperature can go up to 36.°C in summer months and to a minimum of 18.0°C in winter. Monsoon comes to Ernakulam in the month of May.
Art and Culture of Ernakulam
Ernakulam District is famous for the Neo-classical dance form Chavittu Natakom. The Portuguese influence in Kerala helped the spread of Christianity along the South West Coast.Genoa, Caralman charitham, Napoleon charitham, etc are some of the important plays.Places like Gothuruth, Mundamvely, Varapuzha are famous for this art form.
List of Places to visit in Ernakulam
Ernakulam was an important trade center of South India in previous times and hence have seen many rulers and kingdoms in its time period. There are various historical sites in the city. Temples, forts, beaches , museums and many more tourist places. Ernakulam district attracts many tourist all around the year. Some of the famous places around Ernakulam are-
Vypin Island
Bastion Bungalow
Chendamangalam Palace Fort
Ernakulam Siva Temple
Aluva Manalpuram
Poornathresya Temple
St. Mary's Cathedral Basilica
Marine Drive
Transportation in Ernakulam
Ernakulam being the commercial capital of Kerala is very well connected with all means of transport facilities.
Road– The NH-17, NH-47 and NH-49 pass through this district. The roads in Ernakulam district are considered as the main connecting link between northern and southern part of state.NH -17 starting from Edapally and leads to the north towards Mangalore.NH- 49 starting from Kundannur and leads to Madurai in the eastern direction. There are many State highways that passes through the district and connects the city to all the cities of Kerala State.
Railways– There are three broad guage lines lying across the district i.e., Shornur- Cochin harbour Terminus line, Ernakulam – Trivandrum line (via) Kottayam and Ernakulam – Alappuzha – Trivandrum line. The important stations are at Angamaly, Aluva, Ernakulam Town, Ernakulam Junction, Cochin Harbour Terminus and Piravom. There is 105 km of rail track in the district. Short link lines to Wellingdon Island and Irumpanam industrial area also exist.The major railway stations are Ernakulam junction , Aluva, Angamaly and Harbour Terminus.
Airways– There are two Airports in the District one is Naval Airport in Wellingdon Island and other is Cochin International Airport. Regular flights are there from the airport to all the major cities of India and other countries.
Waterways-The National waterway no.3 passes through the district through the Vembanad Backwaters. This route provides waterway connection to the Kollam and Kottappuram. Inland waterways are also providing connectivity to different parts of the district and to other districts. District lies in the flat delta region of Periyar and Moovattupuzha river. Water transport is prominent in the district through rivers and lagoons. The major boat services are in Ernakulam area and other areas having small ferry services.