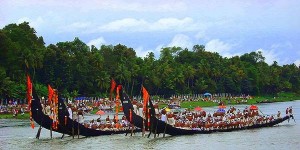 Aranmula Boat Race is the oldest River boat fiesta in kerala state of South India. It takes place in the backwaters of Holy Pamba river, Aranmula in Pathanamthitta district. This Boat Race is also known as the name "Aranmula Uthrattadi Vallamkali". Aranmula Boat Race is held during the Month of August-September on the 4th day after Onam Festival end.More than 30 snake boats called chunadan vallams Partake in the race.During this occasion, all the boats are adorned with silk and golden glittery umbrellas and there is a crew of more than 100 men rowing the boat.Undoubtedly, it is Kerala's most important celebration and the stately snake boats of Aranmula called 'Palliyodams' form part of an age-old temple ritual.
Time : August-September
Venue : Pampa River,Aranmula
Aranmula Boat Race 2014 Date– 10 September 2014
The snake boats move in pairs to the rhythm of full-throated singing and shouting watched by an exciting crowd.Thousands of people gather on the banks of the river Pamba to watch the Snake Boat Races.The oarsmen sing traditional boat songs and wear white mundu and turbans.The villagers owning the boats are proud of them and take good care of them. Today more than 40 snake boats take part in the race.They have four helmsmen, 100 rowers and 25 singers who sing Vanchipattu songs throughout the race. The snake boats are about 100 feet long.Each boat is decorated with a golden lace. Along with these decorations every boat has a flag and two or three ornamental umbrellas.