Beaches in Kerala are among the most finest and beautiful beaches of the country. For virtually its entire 600 km length , the Kerala coast is lined with sandy beaches, rocky promontories and coconut palms. Each Beaches in the Indian state of Kerala are spread along the long stretch Arabian Sea coastline. Scenic backwaters, palm coconut dotted shore, golden & silver beaches, gentle surf, blue azure waters, lush busy plants on the shores make Kerala's beaches globally famous destination for beach tourism. Each year , greater numbers of visitors arrive here in search of tranquil , palm fringed beaches.
These beaches offers the serene view of Majestic Arabian Sea and beautiful place to halt down to relax and refresh the body from the daily hectic life. Many of these beaches offers water sports ,while some are ideal to take a dip in the water , you will find various food joints nearby the beaches . Certainly the best place for localities to go for picnic and for enjoying the natural beauty under the swaying palm trees.
Some of the famous beaches of Kerala are Kovalam Beach , Varkala Beach , Shankumugham Beach , Alappuzha Beach , Cherrai Beach , Muzhappilangad beach , Kappil Beach and many others.
List of Famous Popular Beaches of Kerala
Beaches in Trivandrum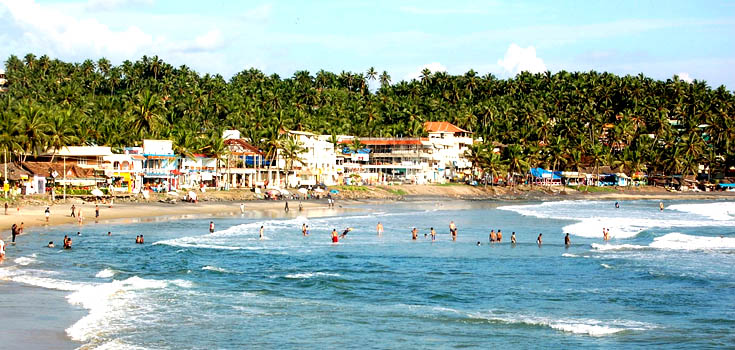 Beaches in Kollam
Thangasseri
Located 5 Km from Kollam
This seaside village of historic importance houses the ruins of old Portuguese fort and churches built in 18th century. The beach here is an unique place where you get to see the sun setting and the moon rising simultaneously.
Thirumullavaram
Located 6 Km north of Kollam
This secluded beach is beautiful picnic center.
Beaches in Ernakulam
Fort Kochi Beach
Located 21 Km from Ernakulam
Overlooking the Arabian Sea, with its legendary Chinese Fishing Nets dotting the foreground, Fort kochi beach offers spectacular sunsets. Another highlight here are the waterfront stalls serving fresh catch prepared according to taste.
Cherai Beach
Located 23 Km From Ernakulam
This lovely beach bordering Vypeen Island is ideal for swimming. Dolphins are occasioionally spotted here. A typical Kerala village nearby, with paddy fields and coconut groves, is an added attraction.
Natika Beach in Thrissur
Located 24 Km from Thrissur
Fringed by palm trees, this picturesque beach is a hot spot for picknickers.
Beaches in Malappuram
Tanur
Located 35Km from Malappuram
The small coastal fishing town of Tanur is one of the earliest settlements of the Portuguese. It is believed that St Francis Xavier visited the place in 1546. About 3 km south of Tanur town is Keraladeshpuram Temple, dedicated to Lord Vishnu and believed to be one of the oldest temples in Kerala.
Padinjarekkara
Located 5Km from Chemravattom, Ponnaniin Malappuram
Famous for bird watching, the beach also offers a breathtaking view of the confluence of the Bharathapuzha, the Tirur Puzha and the Arabia Sea.
Vallikunnu
Located 40Km from Malappuram
A beach resort set in the midst of a palm grove is the main attraction here. Nearby is the Kadalundi Bird Sancturay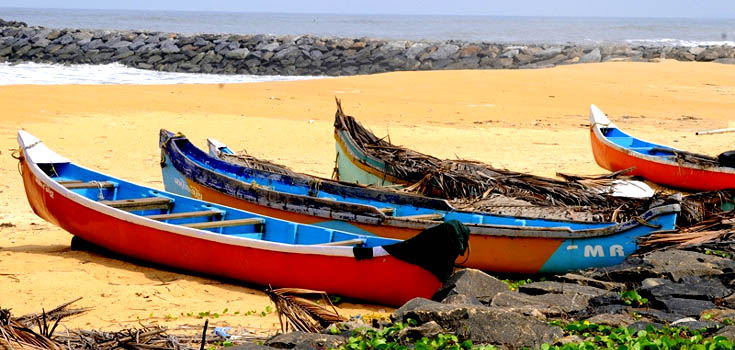 Beaches in Kozhikode
Kozhikode Beach
Located half Km from the City
This beach ius a faourite haunt of the sunset viewers. Adding to it natural beauty is the old world charm retained by the ancient lighthouse and the two crumbling piers, each more than a hundred old, that run into the sea.
Beypore Beach
Located 10Km south of Kozhikode
One of the prominent ports and a maritime trading center of ancient Kerala, beypore is located at the mouth of the Chaliyar river. Teh boat building yard here, famous for the construction of the Uru(Arabian trading vessel), boasts a tradition pf almost 1500 years.
Kappad
Located 16Km from Kozhikode
Thi is the historic beach where Vasco Da Gama landed on the 27th of may 1498 with 170 men in three vessels. The rock-studded beach is locally known as Kappadkadavu.
Thikkoti Lighhouse Beach
Located 35Km from Kozhikode
This beach overlooks the Velliyamkalu rock much dreaded by mariners, off Moodadi coast. the lighthouse here was built sfter the shipwreck, the reamins of which can still be seen here. The region around the Velliyamkallu Rock is home to migratory birds.
Payyoli
Located 40 Km North of Kozhikode
The shallow water of this beautiful beach is ideal for swimming . During November – december, hordes of the endangered Olive Ridely turtles come to lay eggs.
Vadakara Sandbanks
Located 50Km from Kozhikode
This beach where the Kottakal River mrges into the sea is stunningly beautiful and is facourite spot for locals anf tourists. The nearby Birla Bunglow offers delightful view of the Sandbank Beach.
Beaches in Kannur
Payyambalam
Located 2 Km from Kannur
Famous for its flat laterite cliffs that jut out into the sea, well laid gardens and massive landscaped sculpture of mother and child make this beach extremely captivating. The adjacent baby beach accessed through the Burnassery Cantonment is delightfully quiet.
Kizhunna
Located 11 Km from Kannur
This beautiful stretch of sand is one of the secluded beaches in Kerala.
Meenkunnu
Located12 Km from Kannur
Uncrowded , the beach is a tourist's paradise, with golden sand and surf.
Muzhappilangad
Located 15 Km from Kannur
A swimmers paradise, this is Kerala only Drive in Beach. Adventure sports like pargliding, parasailing, micro-lite flights and variety of water sports are possible here.
Dharmadom
Located 17 Km from Kannur
The small five acre island covered with coconut palms and green bushes is a beautiful sight from the serene stretch of Dhrmadom Beach. permission is required to enter this isle.
Ezhimala
Located 50 Km from Kannur
The beautiful beach here has a hillock nearby(286 m high). The beach also has a Naval; Academy
Beaches in Kasaragod
Bekal Fort Beach
Located 1 Km from Bekal Fort in Kasaragod
Also known as Pallikere Beacg, this scenic seaside offers a spectacular view of the historic fort and has ample facilities for recreation and relaxation.
Kappil Beach
Located 2 Km from Bekal fort In Kasaragod
A winding lane meanders through pal-fringed landscape to this totally unpolluted , secluded beach. The Kodi Cliff closeby offers panoramic view of the Arabian Sea.Pallikunnam temple is just 2 km from here.