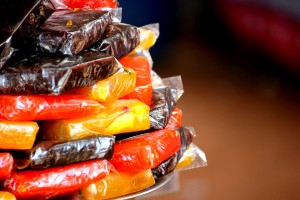 Kozhikodan Halwa is one of the most famous sweet halwa that is well known all over the Kerala and is a must to taste cuisine when you in Kozhikode Kerala. The markets and the streets here you will find different type of this dish with different ingredients taste and flavor in an array of colors. The dish is mainly made from flour , coconut oil and good amount of sugar with some flavoring things. Here is a simple authentic and traditional way to make Kozhikodan Halwa.
Kozhikodan Halwa Ingredients
Following are the ingredients of Kozhikodan Halwa
Sugar about 4 cups
2 cups flour
Water 1 cup
Coconut oil about 1- 2 liters
Dry Cocnut Slices well chopped
Crushed Cardomon Seeds For Flavor
How To Make Kozhikodan Halwa
Here are simple steps to make the halwa in Kerala Style.
First what we have to do is ferment the flour so for this mix the flour with about 7 glass of water and keep it for one day and cover it properly.
Next day you may take out extra water you will see that flour have started fermenting and add some more water which will start more fermentation after that you can keep it in fridge to prevent over fermentation.
Heat the oil over 350 degrees and keep aside after that boil the sugar in another pan with water and then add flour paste with cardamon .
Stir the paste well so that everything gets mixed up.
Now add oil paste and keep stirring it at medium heat. You will see that the paste will get more thick and thick leaving oil extra oil aside.
Keep this process for 3-4 minutes in medium heat.
After that put the thick flour paste in another pan to cool down and also add some chopped grated coconut on it. Let it cool
Slice them into pieces of you choice and enjoy the Kozhikodan Halwa
Taste of Kerala Episode on Kozhikode Halwa