Gandhi Shilp Bazar 2012
Ernakulam,
Siva Temple Ground, Ernakulam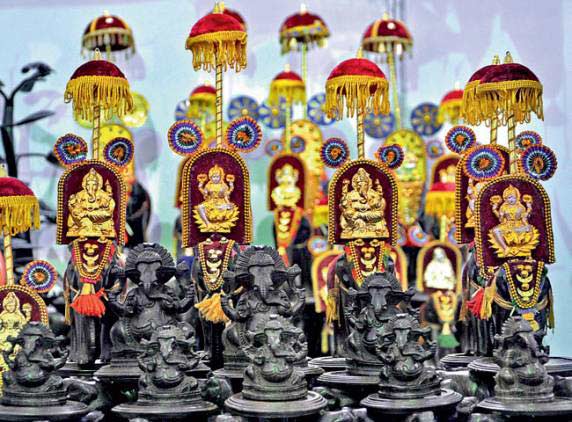 Gandhi Shilp Bazar 2012 is an Art and Craft Expo being held in Ernakulam , Kerala India. The expo is being organized by Kerala State Handicrafts and Apex Co-operative Society Ltd Ernakulam.Kerala State Handicrafts Apex Co-operative Society, established in 1964, markets the glorious arts & crafts created by over 30,000 artisans of 102 Co-operative societies.It has 19 sales showrooms inside and outside the State, and is sponsored by Central and State Governments.
Handicrafts Products of various person from all over the India are in showcase there. Jute crafts, paper mache, Orissa appliqu works, Kalmkari printings, colorful embroidered shawls,dokra castings, wood and stone carvings,palm leaf engravings, glass toys, Chola bronze items and fibre based crafts and many more items can be seen there.
Date– 29 Nov 2012 – 8 Dec 2012
Venue– Siva Temple Ground, Ernakulam
Timings-10:00 am- 10:00 pm
Type– Exhibition
Kerala State Handicrafts Apex Co-operative Society Ltd
Kerala State Handicrafts Apex Co-operative Society Ltd Head Office, Mannancheril Building, Kannanthodath lane, Ernakulam - 682016 Kerala, India E-mail :surabhi@surabhihandicraft.com
Contact Number
Phone :91 484 - 2377978, 2377063 Fax: 91 484 2375079
Book Kerala Hotels and Packages