Overseas Education Expo 2015
Kochi, Ernakulam, Kerala, India,
Taj Gateway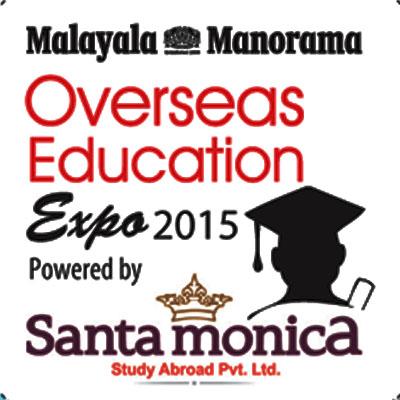 Malayala Manorama Overseas Education Expo 2015
The Overseas Education Expo 2015, being organised by Malayala Manorama in association with Santa Monica, a leading overseas education facilitator, The Expo will be held on 10th and 11th April 2015 in Taj Gate way, Kochi.
Aim of the Event: Aims of the Expo is to provide a common platform for reputed universities, colleges, institutes, students, eminent educationists and other stake holders in the education sector. The expo has also roped in a prominent bank, which will facilitate educational loans for eligible students, making it a major attraction. Attend and be part of the Overseas Education Expo and explore educational avenues like never before.
Benifits for universities:
Organized by South India's leading media conglomerate with wide outreach in Kerala
Great opportunity to meet and screen potential students from 40 major towns and 14 districts of Kerala
Assured pool of pre-screened Students with documents ready for immediate intakes
Carefully tailored pre-expo awareness Seminars across 14 districts and 40 major towns of Kerala
Road shows in 70 leading schools, colleges and professional institutions, and presentations in select 50 institutions prior to the expo
Wide publicity through banners and hoardings across strategic points
Extensive coverage through media platforms of the malayala manorama group including print media, Television, radio, internet prior and during the expo
Wide distribution of leaflets/brochures etc, in prime schools and colleges across Kerala to ensure maximum awareness about the expo
Upscale and centrally located venue
Benifits for Students:
On the spot personalized education counselling
Exhaustive information on scholarships and visa formalities by experts
Meet prominent educationists and seek their guidance
Prioritized application processing, application Fee waivers
Assistance for hassle free education loans*
Spot offers on first come first serve basis and eligibility*
Free IELTS,PTE training for students registered with Santa Monica*
Information on Canada, Australia migration
Online Registration:
To know more or to check oifficial website click here or visit website at http://www.eduexpo2015.com/index.html
Book Kerala Hotels and Packages