Muziris the rich ancient and extinct historical glory of Kerala was an ancient port that existed here during 1st century AD. Though today its glory and facts are not known but Kerala Government has started Muziris Project in order to lighten up its rich heritage to this land which still holds a kind of beauty that is filled with history and culture. The word Muziris can be find in ancient European historical sources and also in Tamil Sangam literature.
It was the port where actual trade in ancient times used to take place from various other foreign countries. The Muziris traders used to trade with Phoenicians, the Egyptians, the Greeks and the Roman Empire where they used to trade objects like pearls, diamonds, sapphires, ivory, Chinese silk, Gangetic spikenard and tortoise shells in return of figured linens, multicoloured textiles, sulfide of antimony, copper, tin, lead, coral, raw glass brought by the foreigners. The incoming of these traders from all around the world brought diverse cultures and different styles of art and architecture which influenced this port. The port was not known till 2006 as to where it was situated untill today it is discovered that the North Parur in Ernakulam District to and Kodungalloor in Thrissur District of Kerala . Pattanam Archaeological site is a prominent location in the Muziris Heritage Project.
Excavation in these sites unearthed valuable information of this area which used to be that ancient Muziris , various monuments , architectures, markets have been found by various historians and archeologist. Muziris now is opted by Kerala Govt and is in the way of re-establishnment as important part of the its rich historical past as the world which was left behind by its ancestors from around the world. Come and Explore the ancient Kerala in the Muziris Land which marked the beginning of Christianity in this country.
Kerala Muziris Heritage Map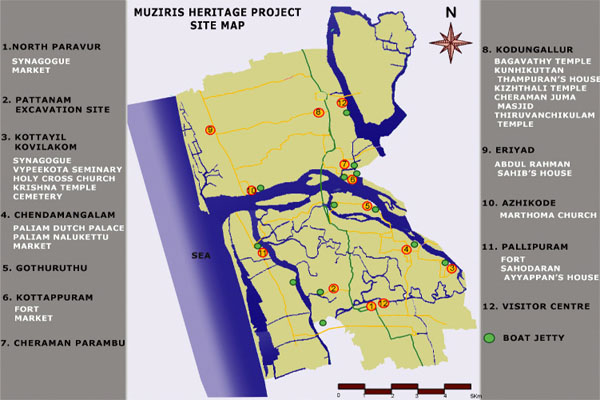 ---
Muziris Project Kerala
Project Muziris wa started by Kerala Government together with the Union Government and local-self-government bodies to reinstate the historical and cultural significance of the legendary port of Muziris dotted with monuments of a bygone era that glorifies the rich ancient past of Kerala History.
Stretching From Ernakulam to Thrissur District and comprising of four panchayats in Ernakulam district (Chennamangalam, Chittatukara, Vadakekkara, Pallippuram) and three panchayats in Thrissur district ( Eriyad, Mathilakam and Sreenarayanapuram) the monuments and other discovered things are now being well preserved for tourists and gathering more related information.
Project highlights
The largest heritage conservation project in India
The first Green Project of the Government of Kerala
Involvement of multiple Government Departments and convergence
More than 25 museums to appreciate the Muziris Heritage
A research and academic institution to support the project
Major improvements in infrastructure
Integration with local communities through native resource persons for data collection, survey etc.