Wayanad Annunal Monsoon Offroading Event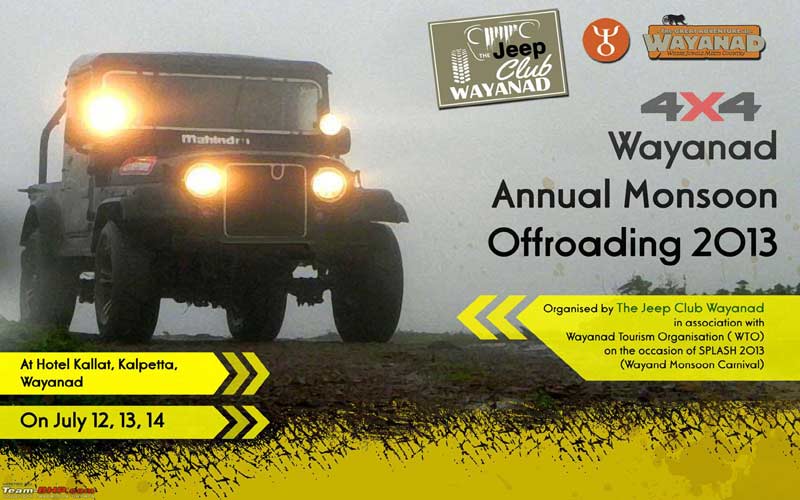 Wayanad Monsoon Festival Splash 2013 Wayanad – Wayanad Monsoon Festival 2013 Venue Schedule Timings Fees
Wayanad Monsoon Festival organized by Wayanad Tourism Organisation (WTO) in conjunction with SPLASH 2013. This is the 5th Edition of the highly successful event in Wayanad to promote tourism. Continuing the success of last years event, Wayanad Tourism Organization along with THE JEEP CLUB WAYANAD is conducting an off-road adventure event and skill drive as a part of SPLASH2013 outdoor activity where over 100 vehicles and 300 participants come from all over India, under different categories of SUV's, Jeeps, Gypsys and quad bikes etc.. and this is the Wayanad Annunal Monsoon Offroading Event.
Date – 12 July – 14 July 2013
Venue– Wayanad
Category– Festival , Monsoon
The entire event will be telecasted on all major television broadcasters like Asianet, Surya TV, Manorama News, Mathrubhumi TV, Jeevan, Doordarshan, Kairali etc. Event Charges are 5000/- per head.(The charges includes, Kallat Hotel Stay for two days on 12th and 13th, Dinner on 12th, Breakfast Lunch & Dinner on 13th, Breakfast & Lunch on 14th and two days event participation charges.)
Events Details
Firday 12 Juky 2013
2:00 PM – 6:00 PM : Registration (Distribution of participant T-Shirts, Food Coupons, Stickers, Caps, Event Briefing)
4:00 PM – 7:30 PM : Vehicle Scrutiny (Check up for mandatory equipments, valid documents, tyres etc..)
7:30 PM – 9:30 PM : Dinner & fellowship.
Saturday 13 July 2013
7:00 AM – 8:00 AM : Breakfast
8:30 AM : Vehicle Line up for flag-off at SKMJ School Ground, Kalpetta
9:00 AM : Flag Off to Offroading @ Vythiri Rainforest Track(Snacks Kit, Water Bottles, Complementary gifts for participants will be provided @flag off along with packed lunch)
6:00 PM : Drive to Vythiri Village for Dinner and Fellowship
7:00 PM – 10:00 PM : Dinner and Cultural program
Sunday 14 July 2013
7:00 AM – 8:00 AM : Breakfast
8:30 AM : Vehicle Line Up for Skill Drive
9:00 AM : Flag Off for Skill Drive (Closed Circuit)
12:00 PM -2:00 PM : Lunch at Cosmopoliton Club, Kalpetta
3:00 PM : Cash Prize Distribution on different heads as Petrol, Diesel, SUV, Quad Bike category
The sponsors are at the previleage, of an exotic event to market their products and services to an elite community of travellers and off-road enthusiasts. The various items and Sponsorship rates are as hereunder:
1. High Quality T Shirts with Embroidery Work and Printing : Rs.1,00,000/-
(Sponsor is at the privilege of marketing their Logo, Trade Name, Company Name, Product Name etc) (It is mandatory for all the 300 participants to wear the T-Shirts)
2. Complementary Kit Bags : Rs. 50,000/-
(Sponsor is at the privilege of marketing their Logo, Trade Name, Company Name, Product Name etc)
3. Rain Coat for 300 Nos. : Rs. 75,000/-
(Sponsor is at the privilege of marketing their Logo, Trade Name, Company Name, Product Name etc)
4. Umbrella for 300 Nos. : Rs.1,00,000/-
(Sponsor is at the privilege of marketing their Logo, Trade Name, Company Name, Product Name etc)
Mr. Ravindran. K
(Co-Ordinator)
+91 08547255308
Contact Details
04936 347979
Book Kerala Hotels and Packages