EKTA Short film festival 2015
kozhikode,
Kozhikode, Kerala, India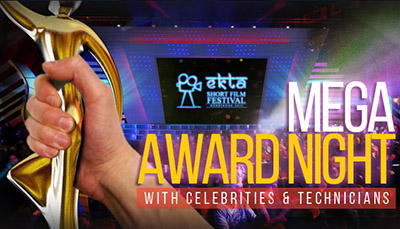 The Emerging Kerala Talent's Association (EKTA) is organising EKTA Short Film Festival 2015 at Kozhikode from April 17 to 19, 2015. There will seperate categories for school, college, foreign and general and also a category for short films with socialy relevant issues.
Aim of the Event: Talents are like dimonds. Somebody has to find them from the deepest mines. EKTA(Kerala Talent's Association) has a mission to find the talents of Kerala through various events and programmes and bring them in front of the world.
Programme Schedule
Programme Name

Place

Time

Inauguration

Gujarathi Hall

9:30 am

Short Film Shows

Gujarathi Hall

10:00 am

Seminar on Direction

Gujarathi Ground

11:00 am

Open Forum

Gujarathi Ground

03:00 pm

School Short Film Show

Town Hall

10:00 am

Musical Eve

Gujarathi Ground

6.30 pm

Day 2

Short Film Shows

Gujarati Hall

10:00 am

Seminar on Acting

Gujarati Ground

11:00 am

Open Forum

Gujarati Ground

03:00 pm

Campus Short Film Show

Town Hall

10:00 am

Dance Eve

Gujarati Ground

06:30 pm

Day 3

Short film shows

Gujarathi Hall

10:00 am

Seminar on Camera

Gujarathi Hal

11:00 am
Mega Event Award ceremony:- The final day will witness a grand mega award ceremony with the participation of celebrities and lot of performing artists with mind blowing performances. Awards will be presented by various sponsors and reputed personalities.
Attractions
EKTA All Kerala Short Film Festival focuses on bringing infotainment and knowledge under a single roof with various kind of activities.
Seminars:– Gain first-hand career knowledge from a celebrity Film maker and enhance your skills, tools, and master industry trade secrets to take any project from the script pages through the entire filmmaking process to final film.
A Tortal Package:- EKTA Short Film Festival gives a total package for the participants with a handful of opportunities to get recognized and be a part of a big event. An entry pass to EKTA Film Festival gives the candidate a chance to project their creations in front of renowned film makers and technicians along with a massive crowd.
Exhibitions:- EKTA brings together the industry, trade, professional users and end consumers with a passion for Film Making — in a way no other event can match.
Open Forums:- EKTA short film festival gives a platform to describe and exchange information and ideas. The open forum sessions will be informative and a chance for the participants to share their opinions on specific subjects.
Sales Counter:- The Participants have a golden opportunity to get some business through the EKTA Short Film Festival's Sales counter, where they can display their DVDs and to sell them at a prize.
Cultural Programmes:- After finishing the serious seminar sessions and controversial open forum discussions its time to relax and enjoy the evenings with some cultural events.
Mega Award Night:- It is the main attraction of EKTA short film festival, all the talented young short film makers get recognised and awarded in a big event with lights & Music.
Award Category
Award will be selected from the selected 40 entries
Best Short Film , Best Secound Short Film, Best Third Short Film
Best Forign Short Film
Special Jury Award
Best Short film with a social message
Best Short film by Women
Best Animated Short film
Best Mobile Short film
Best Collage Short film
Best School Short Film
Best Director, Best Screen Play, Best Actor-Male, Best Actor- Female, Best Child Artist
Best Music Director/BGM
Best Playback singer-Male/Female
Best Lyrics
Best Art director, Best Cinematography, Best Editor, Best Audiography
To Download Event brochure click here
Kerala Talent's Association (EKTA) Registration Process – Click Here
Kerala Talent's Association (EKTA) Entry form – Click Here
To know more please visit the official website at www.ektaevents.com or click here
Book Kerala Hotels and Packages