Kerala also called as "God's Own Country" is one of the most acclaimed tourist destination of India. Enriched with abundant natural beauty, cultural life and great history , it truly allures the tourist from all over the world. Since being the most famous tourist destination of India , Kerala has luxurious hotels and resorts bringing tourists closer to Kerala.
List of Top 10 hotels in Kerala
Finding the best 10 hotels in Kerala was really a difficult task since every hotel has a unique aura and quality. But we have listed some best hotels that you will love to enjoy and stay to make you Holiday in Kerala a memorable one.
1- The Zuri Kumarakom
Set in 18 verdant acres on the shores of the Vembanad Lake and just 2 hours from the Cochin International Airport. The Zuri Kumarakom, Kerala Resort & Spa is a five–star deluxe spa resort in Kumarakom.This Kumarakom resort offers 72 rooms including 18 Zuri Rooms, 16 Zuri Deluxe Rooms, 28 Zuri Cottages and 10 Zuri Presidential Pool Villas with contemporary, deluxe accommodation in Kerala, ideal for the world luxury and leisure traveller or business guests.
2- Chateau Woods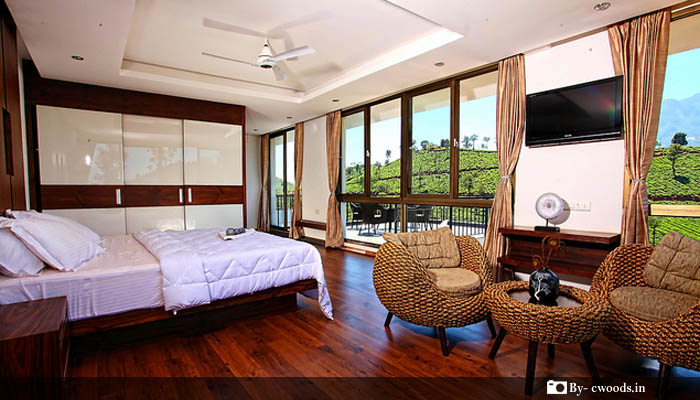 One of the Best Luxury Resort in Wayanad, Chateau Woods is situated in sprawling 7 acres of land offering confinement and tranquility within easy reach of excellent amenities. A short agreeable ride with Tar streets, around 3kms from the well known Soochipara Falls is all it takes to get here and experience Luxury countryside living. The Bungalow contains two presidential suite, two Luxury suite rooms and a nearby Cliff Villa.
3- Vivanta by Taj – Malabar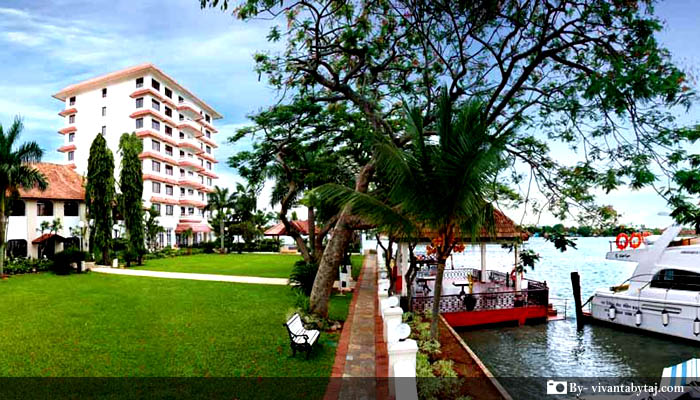 Situated on Willingdon Island with a magnificent view of Cochin harbour, Vivanta by Taj – Malabar is a fine balance between yesterday and tomorrow.Vivanta by Taj – Malabar a five star hotel by Taj Groups of Hotel, has all the entertainment and connectivity options today's traveller requires.
4- Niraamaya – Surya Samudra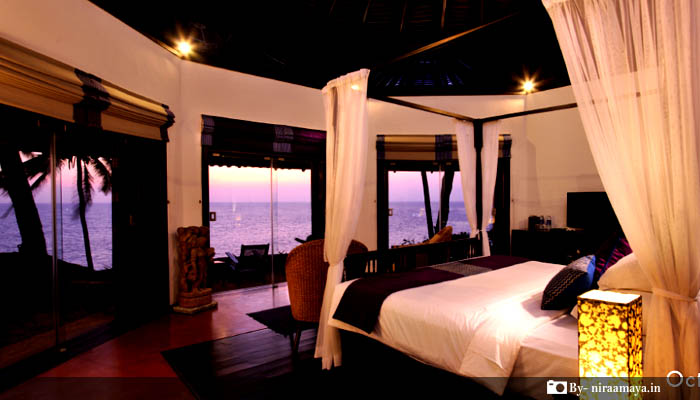 Encompassed by rich greenery, by the Arabian Sea, Niraamaya Surya Samudra's 31 heritage houses are customary Keralite heritage homes. Which easily mix weathered wood with contemporary extravagance. Offering a flawless harmony between old world appeal and advanced comfort.Indulge in a long shower in outdoors bathrooms. Bask, in the daylight by the pool. Take in the strong fragrance of jasmine. Then again simply sit by on the verandah and watch the waves tenderly kiss the shore.
5- Kumarakom Lake Resort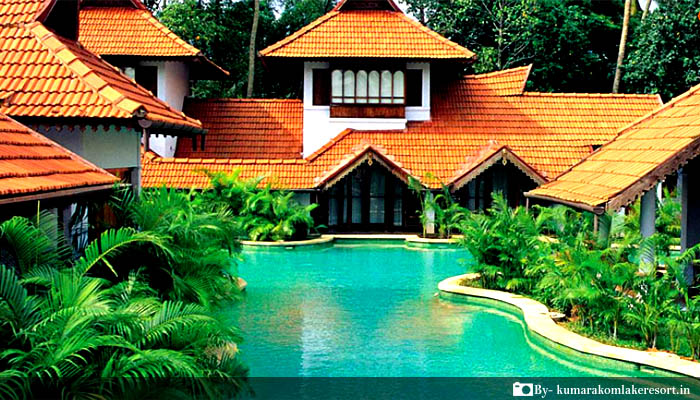 Kumarakom Lake Resort, acclaimed as the finest luxury heritage resort in India, nestles on the serene banks of the Lake Vembanad, the vast stretch of tranquil, emerald green backwaters, in one of India's popular holiday spots, Kerala. Sprawling across 25 acres of lush greenery and set in soul-stirring ambience, Kumarakom Lake Resort, the winner of the much acclaimed World Travel Award as India's Leading Resort for four years, exudes the charm of Kerala's true heritage while offering a complete range of New Age amenities for a luxuriously comfortable stay.
6- Kondai Lip Backwater Heritage Resort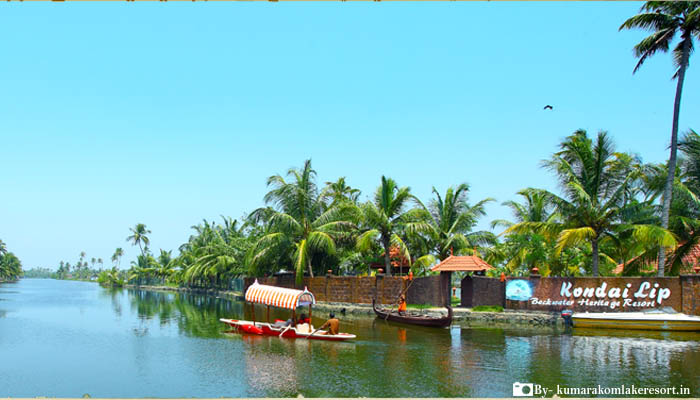 Kondai Lip Backwater Heritage Resort is a backwater resort offering world class extravagances. The cottages are all over a hundred years old and were once conventional homes that have been translocated. Composed in Kerala's vernacular style of architecture, with interiors in wood, richly outfitted and furnished with all cutting edge amenities, the cottages gaze out at canals on two sides and are situated around an eating zone that is interested in the encompassing scene.
7- Wayanad Silverwoods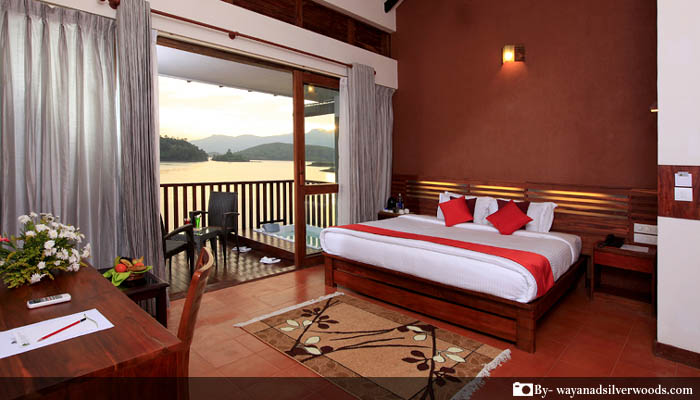 Wayanad Silverwoods is set on a sprawling area of 16 acres providing a breathtaking view of the Banasura Sagar with the mighty banasura mountains as the back drop. Its an exalted luxury, to be huddled amidst the lush tropical forest, mist clad hills with exotic and myriad forms of flora and fauna, organic farms, gushing mountain streams, estates and cascading waterfalls, creating one of the most beautiful nature resort in Kerala.
8- Niraamaya Retreats Cardamom Club Thekkady
From a villa perched amidst acres of cardamom plantations, your window serves as a gateway to the exotic wildlife of Thekkady. Birds of all colours, creeds and calls dwell in the majestic trees that surround the resort. Check in to one of cottages and give yourself up to the Niraamaya Experience. This entails a blend of traditional charm, contemporary luxury and old-fashioned hospitality.Niraamaya Retreats Cardamom Club is truly a luxury amidst nature.
9- Vasundhara Sarovar Premiere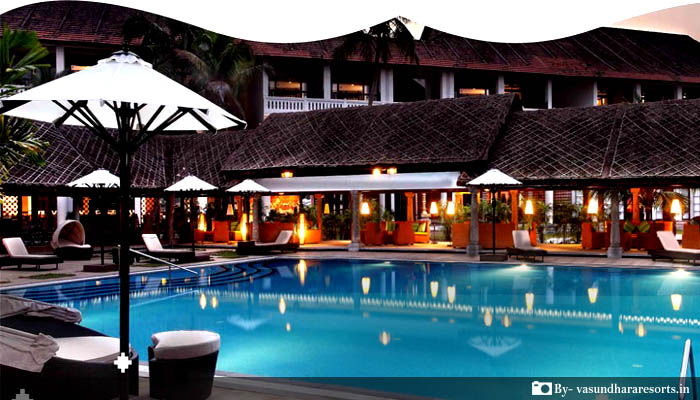 Vasundhara Sarovar Premiere brings a wealth of enriching experiences, rooted in the earthy beauty of God's own country. It offers you a multilayered slice of Kerala, with all its versatility and culture. Encompassing you in the warmth of contemporary luxury and the vibrant hospitality of its people. The alluring design and ultimate comfort of rooms connect in new and old ways with the spirit of Kerala. Lush gardens, beautifully landscaped, intersect with calm waterbodies, bringing you in touch with the pristine stream of nature. Delicious cuisine tingles your taste buds with spicy Kerala dishes, fresh seafood or international menus.
10- Vythiri Resorts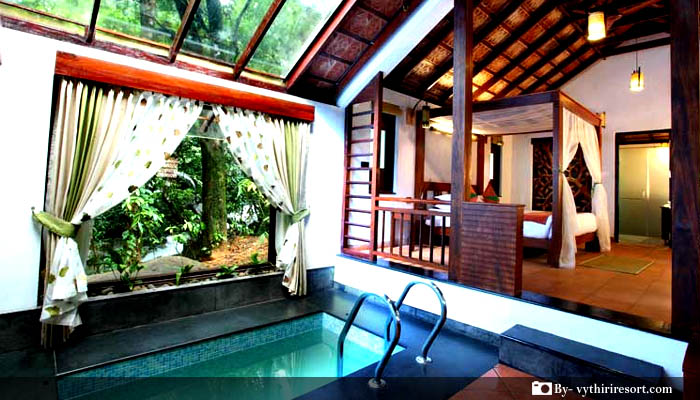 Spread over either bank of a sprightly mountain stream that goes through the 150 acre of land , the Vythiri Resort is a delightful wilderness hideaway and a naturalist's fortune trove. Wrapped in the cool grasp of a rainforest, stone lined pathways, canopied by lofty trees, lead to brick shaded cottages inherent the style local to the region. Built of brick with wooden rafters on the roof, furnished in cane, wood and fabrics of discreet elegance, the cottages are equipped with all modern amenities.