Wayanad is one of the districts of Kerala state of India which was formed on November 1, 1980 by carving out the areas of Kozhikode and Kannur districts. It was known as Mayakshetra in its previous times. It is set lofty on the majestic Western Ghats with altitudes ranging from 700 to 2100 Metres above mean sea level. It is the least populous district in Kerala.Agriculture, is the main stay of the economy. Coffee, tea, cocoa, pepper, plantain and vanilla are the main crops. Besides these cash crops, the most important crop in the district is rice.
Wayanad District Map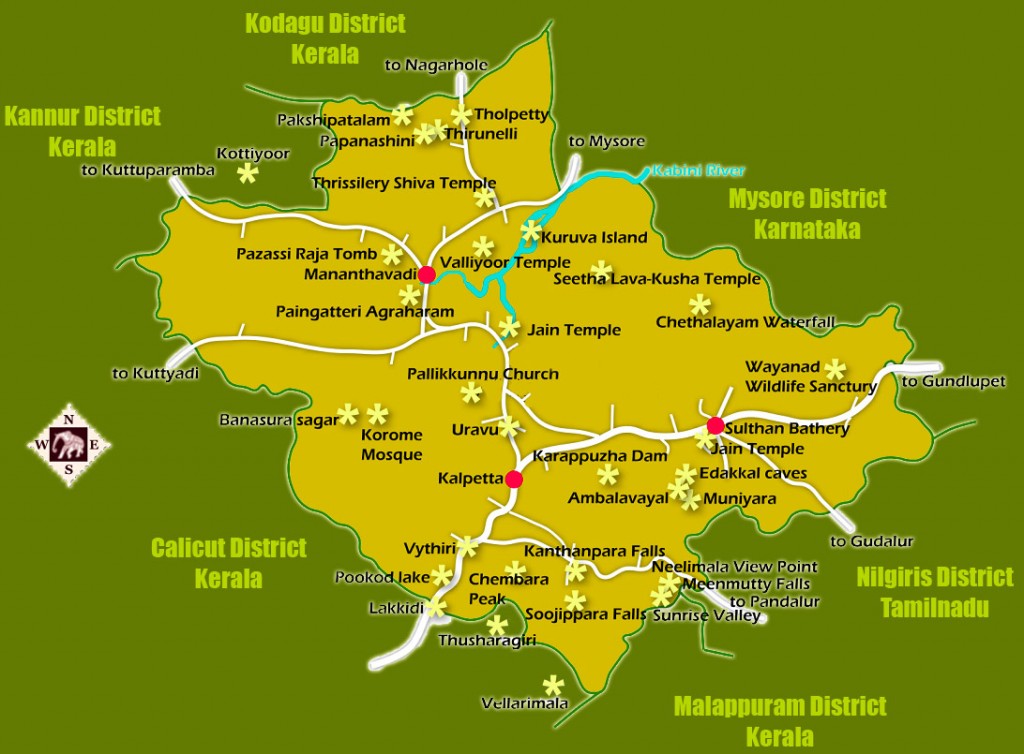 Wayanad District Facts
| | |
| --- | --- |
| Headquarter | Kalpetta |
| Population | 816,558 |
| Area | 2,131 sq.km |
| Literacy | 89.32%. |
| Sex Ratio | 1035 Female per 1000Male |
| Official Language | Malayalama, English |
| Official Website | http://wayanad.nic.in/ |
| Density | 369 per Sq Km |
| Taluks | Mananthavady, Sulthan Bathery, and Vythiri |
Brief History of Wayanad
Wayanad district is spread over an area of 2,132 sq. kilometres, Wayanad has a rich history. Historians are of the view that organized human life existed in these parts, at least ten centuries before Christ.In ancient times, this land was ruled by the Rajas of the Veda tribe. In later days, Wayanad came under the rule of the Pazhassi Rajahs of Kottayam royal dynasty. After that Britishers started cultivation of tea and other cash crops. When the State of Kerala came into being in November 1956, Wayanad was part of Kannur district. Later, south Wayanad was added to Kozhikode district. In order to fulfill the aspirations of the people of Wayanad for development, north Wayanad and South Wayanad were carved out and joined together to form the present district of Wayanad.
Wayanad Geography and Climate
Wayanad district stands on the southern tip of the Deccan plateau and its chief glory is the majestic rugged terrain of the Western Ghats, with lofty ridges interspersed with dense forest, tangled jungles and deep valleys. The Kabini River, one of the three east flowing rivers of Kerala, is an important tributary of the Kaveri River. Almost the entire Wayanad district is drained by Kabini and its three tributaries, the Panamaram, Mananthavady, and Kalindy rivers.
Wayanad has a salubrious climate. The mean average rain fall in this district is 2322 m.m. Lakkidi, Vythiri and Meppadi are the high rainfall areas in Wayanad.High velocity winds are common during the south west monsoon and dry winds blow in March-April.The distance from the mean sea level and the amount of forest cover creates a pleasant climate in the region. Generally the year is divided into four seasons; cold weather (December to February) hot weather (March to May) South West monsoon (June to September) and North East monsoon (October to November).
Landmarks and Places to visit in Wayanad
Wayanad is one of the exotic Hill Stations of Kerala amidst the western ghats. It has rich cultural history and offers various famous visiting places all over the districts. Temples, Wildlife, waterfalls, forts and many more places of worth visiting. Some of the famous places of the Wayanad district not to be missed are-
Muthanga wild life sanctuary
Pazhassi Tourist Resort
Pookot lake
Sentinel Rock Waterfalls
Kanthanpara Waterfalls
Neelimala View Point
Pallikunnu Church
Mazhuvannur Maha Siva Kshethram
Sulthan Bathery
ParswanathaSwamy Jain Temple
Varambatta Mosque
Transportation in Wayanad
Road– Kozhikode – Mysore National Highway 212 (NH 212) passes through Wayanad district. Wayanad is well connected by road to various parts of Kerala and other neighboring states. Buses go frequently between important centres like Mysore, Bangalore, Ootty.
Railways– Kozhikode Railway Station is the nearest railway station 75km from Kalpetta. Other railway station near to the city are Thalassery, Kannur and Mysore.
Airways– Kozhikode International Airport is located about 95 km from Kalpetta. Kannur International airport which is going to constructed till 2014 will be 70 km from Mananthavadi.