Kerala is also known as "Gods own Country" and there is a reason behind calling it that. The beauty of this state cannot be described best in words. Kerala is the land of the mountains and the land of the oceans, it has no dearth of beautiful places from hill stations to beaches, Kerala is full of surprise. Below is a list of some of the most beautiful hill stations of Kerala.
List of Top Hill Stations in Kerala
Munnar
Munnar is one of the most popular hesitations of Kerala and is located at an altitude of 1600mts above the sea level. It is known for its lush green meadows spread all over the mountain range. Pothamadu (6kms), Devikulam (7kms), Pallivasal (8kms), Attukal (9kms), Nyaymakad (10kms) and Mattupetty (13kms) are some of the must visit places around Munnar all these places provide good scenic beauty, waterfalls, trekking trails, lakes and dams.
Thekkady
Located in the Idukki district of Kerala, Thekkady is an excellent place to rejuvenate yourself and indulge into the warmth of Mother nature. The Periyar Wild life Sanctuary which is popular for the Elephants is a part of Thekkady. Explore the wildlife on the back of open jeep Safari at Thekkady.
Vagamon
Vagamon, Situated at an elevation of 1200mts above the sea level it is a popular summer getaway. It is one of the calmest places in Kerala; its beautiful environs will definitely take your heart away. You can also witness the majestic Illikal Peak, Poonjar Palace and Maramala Waterfalls in Vagamon.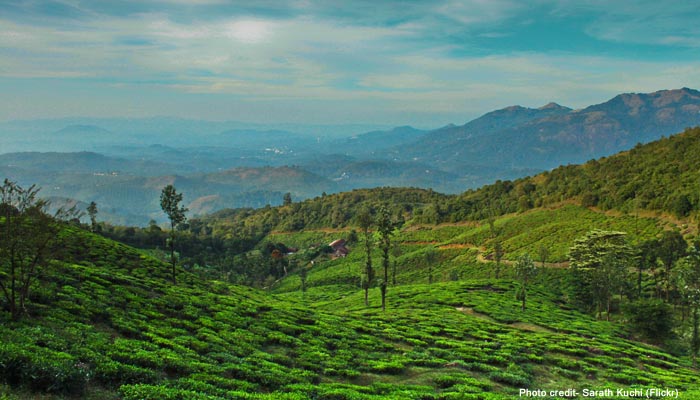 Ponmudi
Popular for the Peppara Wildlife Sanctuary and the Deer Park, Ponmudi is a small picturesque hill stations in Kerala. It is the best Hill stations for trekking and hiking. The waterfalls of Golden Valley and Meenmutti are a treat to watch in this slice of heaven.
Lakkidi
Lakkidi is located at an elevation of 700mts above the sea level, but that does not reduce the charm of this lovely place. Lakkidi boasts of lofty green mountains and a tranquil environment and the best part is that it is dotted with luxurious cottages which will provide you with the best of the comforts. Being a small hill station you can explore it all on your foot.
Vythiri
Situated at an elevation of 1300mts above the sea level, Vythiri is known for its scenic beauty and the temples and Neolithic age Edakkal Caves. With the gentle mountain slopes you can also enjoy rafting, boating and angling activities along with the majestic landscape.
Idukki
This prestine hill station is filled with the smell of species for which it is popular. Litteraly meaning the Narrow Gorge, Iddipi lies at the confluence of Periyar, Thalayar and Thodupuzha River. The main attractions of Idukki are Idukki Wildlife Sanctuary, Idukki Arch Dam, Waterfall at Keezar Kuthu and the sprawling tea and spice plantations.
Peermedu
This small hill station named after the Sufi saint Peer Mohhammad, Peermedu can be titled as the greenest place in Kerala. Far from the chaos of city life, enjoy your time here with the ancient tribal of Kerala. Kuttikkanam, Thrissanku Hills, Peeru Hills, Grampi (5 km from Peermede) and Pattumala are some of the best places to visit in and around Peermedu
Mattupetty
A treasure for nature lovers, Mattupetty is known for its sprawling lush green meadows and tea gardens. One of the most interesting facts of Mattupetty is that it houses more than 100 species of cattle in cattle shed located here which one should visit. You can enjoy boating in the Mattupetty Lake and Trekking to nearby places.
Ayyampuzha
This lesser known place in Kerala is actually a piece of gem. The small waterfall surrounded by green meadows will provide you with a look of heaven on earth. A less visited place it will provide you with the peace and tranquility.
Gavi
A perfect getaway for nature lovers, Gavi in Kerala is paradise for adventure lovers as well. In Gavi you can indulge in many activities like trekking, wildlife watching, bird watching, staying in tree house, camping and safari in the forest and boating in Kochupampa and Gavi lakes. You can also hike to the popular temple of Sabrimala.
Athirapally
One off the best places to visit in Kerala during the monsoons, the water falls at Athirapally are one of the most beautiful falls of the country. One of the best places for photography this splendid waterfalls has also been a background for many Bollywood movies.
Malakkappara
Also known as the tea garden hill station, Malakkappara is popular for the cultivation of tea leaves which are the finest quality found in India. Dotted with scenic natural spots and small streams it is a perfect place for photography enthusiasts to hone their skills.
Ranipuram
Located in the Kasargod district of Kerala this beautiful hill station is known for its eco tourism. AS it is still an unexplored destination it is untouched by commercialization and is quite pristine. Ranipuram also offers a great opportunity for trekking and bird watching and you can also go on a jungle safari riding on the back of an Elephant.