Located in Southern tip of India Kerala is often referred to as "God's Own Country", Kerala is one of the most famous tourist destination of India and offers numerous stunning tourist places. This waterfront state is rich in distinctive traditions, culture and lavish unspoiled tropical excellence. Named as one of the ten heavens of the world by National Geographic Traveler, Kerala offers you an equable climate. A long shoreline with quiet shorelines. Peaceful extends of emerald backwaters. Lush hill stations and exotic wildlife. Waterfalls. Sprawling estates and paddy fields. Kerala offers something for every kind of tourist irrespective of their interest which makes it an ideal tourist destination of India.
List of Top Tourist Places in Kerala
Now Here is the list of top destination in Kerala that every tourist must visit while here on Holidays in Kerala.Now Lets Explore Top Tourist Destinations in Kerala –
Munnar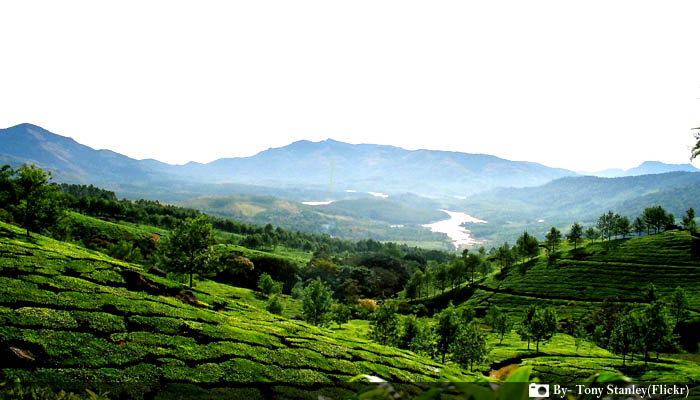 Munnar situated around 1600 m above sea level is the paradise on earth is located in Idukki District of Kerala about 128 km from Kochi city of Kerala. Munnar is also famous as honeymooners paradise since its full of green forests, savannah, rolling hills, scenic valleys, numerous streams, huge splashy waterfalls, sprawling tea plantations and winding walkways.
Famous Tourist Places in Munnar – Atukkad Waterfalls, Chithirapuram , Blossom Park, Pothamedu View Point, Mattupetti Dam, Echo Point, Kundala Lake, Top Station, Naimakkadu Water Falls, Eravikulam (Rajamalai) National Park, Marayoor , Lakkam Water Falls,Devikulam ,Kolukkumalai Tea state .
How to Reach Munnar
By Air– Cochin International Airport is the Nearest Airport from Here.
By Train– Aluva Railway Station is the nearest station from here .
By Road– It is about 130 km from Cochin city and takes hardly 4 hours to reach.
Alleppey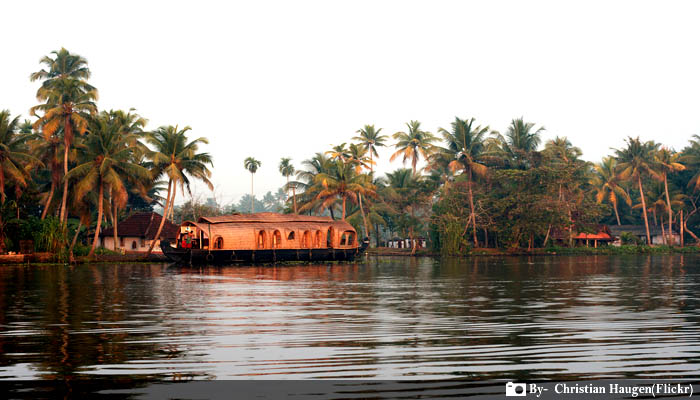 Famously coined as "Venice of East" Alleppey is the famous Backwaters Destination of Kerala sprawls at the shores of of Vembanad Lake.The Palm bordered trenches and shores clamoring with sights from the day to day life in the country side, the mirror still lagoons, picture book lakeside and its long sandy shoreline has favored this as travelers tourists top choices in the state.
Famous Tourist Places in Alleppey – St. Mary's Church , Sreekrishna Swamy Temple,Marari-beach, Snake Boat Races ,Pathiramanal , Krishnapuram Palace ,Karumadikkuttan ,Chakkulathukavu Temple , Alappuzha Beach.
How To Reach Alleppey
By Air- Cochin International Airport is the nearest Airport from here .
By Train– Alleppey can be easily reached via trains from various parts of the country through Sabari Express.
By Road– Alleppey is well connected by NH 47, cities like Kochi, Kottayam, Kollam, Thiruvananthapuram, Kozhikode, Chennai, Bangalore, Coimbatore are well connected to the city.
Kovalam
Kovalam located in the capital city of Kerala Trivandrum is a famous beach destination of Kerala famous for its beautiful stunning and the most pristine beaches of India.Kovalam has 3 major beaches in its 17 km coastline.The southernmost, known as the Lighthouse Beach .It takes short of what five minutes to stroll from Lighthouse Beach to the second biggest shoreline, Hawah Beach. This shoreline is named accordingly for the topless European women who used to throng there. The northern piece of the shoreline is known as Samudra Beach.
Famous Tourist Places in Kovalam– Lighthouse Beach, Samudra Beach, Vellayani Lake , Vizhinjam , Anchuthengu Fort , Thiruvallam Sree Parasurama Swami Temple
How to Reach Kovalam
By Air- Kovalam is about 16 km from Trivandrum city and Trivandrum International Airport is the nearest airport from here.
By Train– Thiruvananthapuram comes under the Southern Railway zone of the Indian Railways. There are five railway stations within the city limits including the Thiruvananthapuram central station. Thiruvananthapuram Pettah, Kochuveli and Veli stations and Thiruvananthapuram Nemom.
Wayanad
Wayanad the famous hilly district of Kerala is based on Western Ghats with altitudes ranging from 700 to 2100 m full of lofty ridges interspersed with dense forest, tangled jungles and deep valleys.Wayanad enjoys a salubrious climate throughout the year and offer a wide range of trekking opportunities, plantation visits and wildlife tours.
Tourist Places in Wayanad– Chembra Peak, Neelimala, Meenmutty waterfalls, Chethalayam, Pakshipathalam, Banasura Sagar Dam, Vythiri , Sulthan Bathery , Kalpetta , Muthanga, Edakkal , Pazhassi Tomb , Thirunelli Temple , Kuruwadeep , Wayanad Wildlife Sanctuary , Soochipara Falls , Bathery Jain Temple , Ambukuthy Hills ,
How to Reach Wayanad
By Air- Wayanad has no airport till now and Calicut International Airport is the nearest from here which is located about 95 km from here.
By Rail– Wayanad is not connected with the railway network since its a hilly area.
Kochi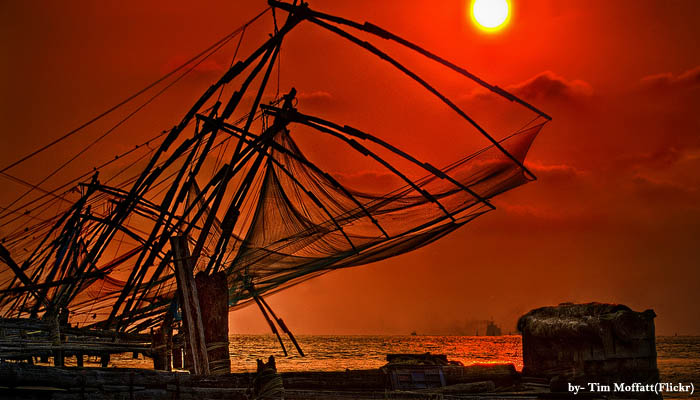 Cochin the bustling city of Kerala is certainly one of the most visited destination of Kerala.Heralded as the Queen of the Arabian Sea, Kochi was an important spice trading centre on the west coast of India from the 14th century.Kochi in Ernakulam has in store for visitors some heritage sites as well as historic ones with a landscape crisscrossed by backwaters, which meet the Arabian Sea at various points.
Tourist Places in Cochin– Hill Palace Museum, Santacruz Basilica, St. Francis Church , David Hall, Bastion Bungalow, Dutch Palace , Jew Street and Paradesi Synagogue, Fort Kochi, Chendamangalam Palace Fort, Pallipuram Fort, Pierce Leslie Bungalow, Kumbalangi Integrated Tourism Village, Ernakulam Siva Temple , Thirumala Devaswom Temple, Cherai Beach, Fort Kochi Beach , Willingdon Island , Mangalavanam Bird Sanctuar .
How To Reach Cochin
By Air– Cochin International Airport (CIAL) is the located about 28 km city and is well connected to other airports of the Country.
By Train– The city has two major railway stations – Ernakulam Junction and Ernakulam Town .
By Road– Kochi is well connected to neighboring cities and states via several highways