Kerala the "God's Own Country " house numerous beaches through 550-km Arabian Sea caostline, of which some are world famous and some still are less visited.Beaches in Kerala are known for their stunning views and serene locations .Dense groves of coconut trees line the coast and extend to the interiors.The long coastline of Kerala is inextricably entwined with the culture, life and traditions of the state. These beaches are perfect for relaxing , swimming , sunbathing and enjoying your holidays.The best time to visit, weather wise, is from December to March.
Famous Beaches of Kerala
Here is the list of some best beaches of Kerala with stunning beauty and life.
1- Kovalam Beach
Kovalam Beach is located in Trivandrum District of Kerala about 16 km from the main city. Kovalam beach is the most famous beach of Kerala which is divided into three adjacent beaches namely- Lighthouse Beach, Hawa Beach, Samudra Beach. Lighthouse is the most popular and sees lots of tourist traffic but if you want the secluded beach than you can go on to samudra beach.
How to Reach Kovalam Beach
By Train- Thiruvananthapuram Central Railway Station is located about 16 km from here.
By Air – Trivandrum Airport is the nearest Airport from Kovalam.
By Road-Trivnadrum city is very well connected with roads to other districts and city of the State so reaching via road will not be problem at all once you reach Trivandrum.
2- Varkala Beach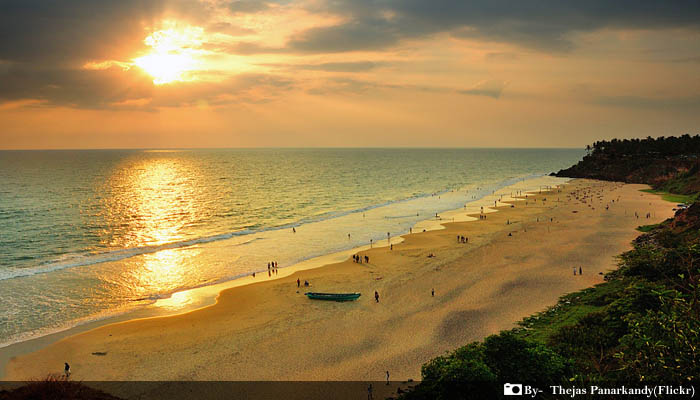 Varkala Beach located in Varkala City of Trivandrum is another popular beaches in Kerala and is the only beach in Kerala with cliff adjacent to it.The beach lies at the bottom of a long stretch of cliff that's bordered by beach shacks and shops. The beach is full of shacks and hotels and homestays since its rapidly becoming the popular among the tourists. Varkala Beach is also called as Papanasam Beach since it is believed that whosoever takes a dip in here washes away all of their sin commited in this birth.
How to Reach Varkala Beach
By Air–Trivandru International Airport is the nearest airport from here at about 50km away.
By Train-Varkala is also connected by Rail Network.Papanasam Beach is around 5km from Varkala Railway Station.
By Road-Varkala is linked by state and national highways to all the major cities in Kerala, Tamilnadu and Karnataka. It can be easily reached via state road transport byses or you can hire taxi to reach here.
3- Bekal Beach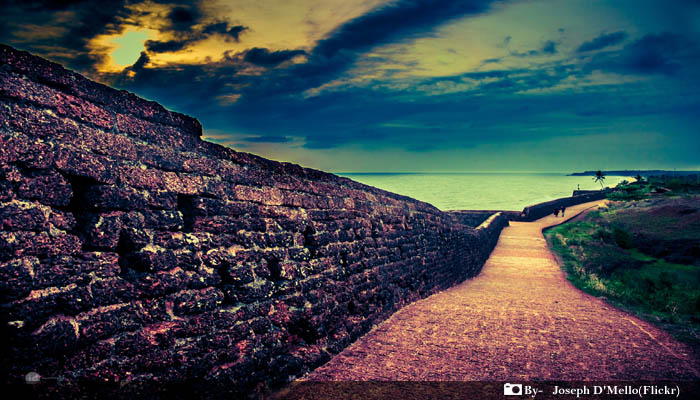 Bekal Beach is located in Kasargod District of Kerala and is famous for the Bekal Fort located at the shores of the beach. Bekal Beach is just adjacent to the fort and have a long coastline perfect for relaxing and swimming. The imposing fort at Bekal is one of the largest and best preserved forts in Kerala. The beautiful expanse of the shallow beach near the Bekal fort known as Bekal Fort Beach has been developed as an exotic beach location by the Bekal Resorts Development Corporation (BRDC).
How To Reach Bekal Beach
By Air– Mangalore Airport is the nearest airport from here about 50 km away while
By Train – Kasargod and Kanhangad Railway Stations are the nearest to Bekal Beach about 12 km away.
By Road– One can easily reach via KSRTC Buses in the state , the beach is about 12 km away from the main city.
4- Marari Beach
Marari Beach located in small village called as Mararikulam in Alleppey District of Kerala about 11 km from the city and is an idyllic location for a vacation. This beach is quiet and undeveloped. The name Marari is shortened from from Mararikulam, a small and sleepy fisherman's village. Marari isn't a tourist beach but rather a peaceful place to relax and unwind. Those who visit Marari look forward to the slow pace of life, and soaking up the serenity and tranquility on the deserted sandy beaches.
How To Reach Marari Beach
By Air– Marari Beach is located in Alleppey District of Kerala. Cochin International Airport is the nearest airport from here.
By Train– Mararikulam has a railway station which is connected via other rail network of the state.
By Road– It is also well connected by road. NH 47 passes through S.L.Puram, which is 5 km to the east of Mararikulam.
5- Kappad Beach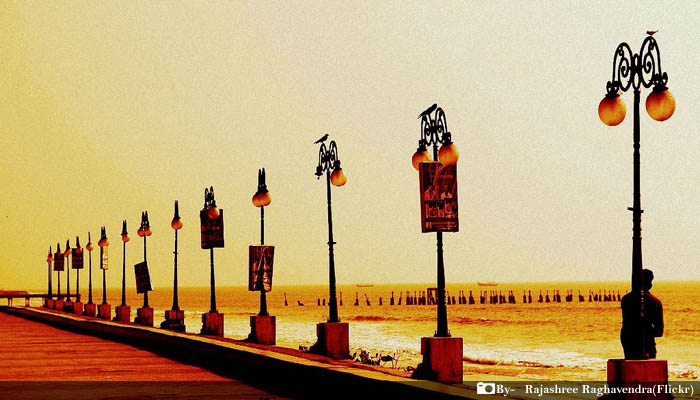 Kappad Beach in Calicut is a historical beach where the Portuguese explorer Vasco Da Gama landed on 20 May 1498. For the people of Kozhikode, this pleasant stretch of rock-studded beach is Kappakkadavu. To the tourist it is one of the most charming of Kerala's beaches. Today only a little stone monument is left at the Kappad beach to speak of its great historic importance. On the rocks nearby is a temple believed to be 800 years old.The best route to Kappad is along the backwaters. A ride down the backwaters through the Korappuzha river brings you to the beach.
How To Reach Kappad Beach
By Train-Nearest railway station is Kozhikode Railway Station, about 16 km.
By Air- Nearest airport is Karipur International Airport, Kozhikode
By Road– Kozhikode is well connected by roads and reaching this famous beach will be no problem once enter the district.